Scott Base Redevelopment Build
In November 2021, PrimePort Timaru was selected as the main build site for the $344 million Scott Base Redevelopment Build.
Venture Timaru is thrilled to be welcoming the teams from Antarctica NZ and Leighs Construction to our district.
This page will be dedicate to providing you with key information and updates surrounding this important project for the Timaru District. For more information, check out the project website which also has a "fly through and over" of the new base.

Here's your chance to get involved now
The new Scott Base needs a colour - and Antarctica New Zealand is giving all New Zealanders the chance to help choose it!
What will it be - kikorangi, karaka or kākāriki? There are three choices – blue, orange or green.
Scott Base Redevelopment project director Jon Ager says the colours evoke landscapes both in Antarctica and New Zealand. "People can choose between the blue of the glaciers, the green of the Southern Aurora, or orange like the cheeks of emperor penguins. Having seen and experienced all of these colours, I know they are inspired choices."
Everyone in New Zealand can vote by going to colourscottbase.co.nz
Voting closes midnight 14 June 2022.
For those wanting to find out more about Scott Base, have a look at this education booklet Discover Our Place Scott Base
---
Key project information
The decision to work with PrimePort was made after careful deliberation – not least because it has an accessible and available construction site, as well as a deep-water port.
The buildings will be constructed at PrimePort in their entirety, then separated into eight modules before they are transported to Antarctica on the back of a massive ship called a Module Carrier Class vessel.
The new Scott Base will be constructed at PrimePort Timaru, then separated into eight modules before they are shipped to Pram Point, Antarctica.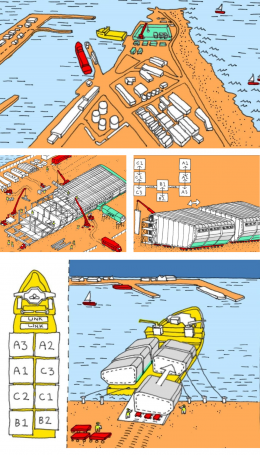 Self-propelled modular trailers will roll the building sections on and off the vessel and into place at Scott Base.

All of the building modules, including the link-bridges, will travel on a single shipment, with an icebreaker clearing the way.
Timaruvians will be able to watch the build as it happens!
Construction in New Zealand allows for a year-round build – Antarctica is in darkness for half of the year. It also means the team can test and commission the buildings and make sure everything is working before they head south.
The new base will eventually be situated on the same location as the current base at Pram Point, Antarctica, allowing continued support of New Zealand's world-leading Antarctic science.
The existing base will be deconstructed and shipped back to New Zealand along with all waste and materials at the completion of the project.
Antarctica New Zealand received $344 million in Budget 2021 to rebuild Scott Base and upgrade its wind farm, which will ensure the new base is powered by up to 97% of renewable energy.
Latest update from Antarctica New Zealand
Click here for the latest Scott Base Redevelopment Project update, direct from Antarctica New Zealand. You can also subscribe to receive the project newsletter in your inbox via the above link.
---
Antarctica fast facts
Antarctica is the 5th largest continent.
It has a land area of 14 million km² (280,000 km² ice-free, 13.72 million km² ice-covered).
It is almost twice the size of Australia (7,617,930 km²).
In summer, it can be about 50% the size of the US.
In winter, it can grow up to 2 times that size.
The Dry Valleys in Antarctica are the driest places on earth.
Antarctica is, on average, the windiest place on earth.
The continent contains 70% of the world's freshwater.
There are more than 9,000 known animal species in Antarctica, including 46 species of bird, 10 cetaceans (including killer whales and humpback whales), 6 species of seal and 7 Antarctic penguin species.
At its deepest, Antarctica's ice is 4.5km (2.7 miles) thick.
Seven nations from around the globe lay claim to different parts of the continent and are part of the Antarctic Treaty signed 1959:

New Zealand
Australia
France
Norway
UK
Chile
Argentina

There are currently 70 permanent scientific research stations found across the continent of Antarctica. They represent 29 countries from all 7 continents.
---
Local Antarctic connections

Geraldine Cheese Company
Geraldine Cheese Company have brought their name and logo full circle, paying homage to the very first iteration from 1884.
There is a wheel of the original Geraldine Cheese Company's cheese in Captain Robert Falcon Scott's 1910-1912 Terra Nova Expedition Hut in Cape Evans, Antarctica, with the same logo they are using today!
Mount Nimrod
In 1907, Ernest Shackelton and his crew were en route to Antarctica as part of the 'Nimrod' expedition, aboard the Nimrod vessel. As part of their training for their goal of ascending Antarctica's Mount Erebus, Shackelton and team climbed a mighty peak in the Hunter Hills.
As they were the first group to make it to the top, the peak was named Mount Nimrod, for the boat carrying the crew on their expedition! When they arrived at the summit of Mount Erebus, they erected Nimrod Hut - now preserved by the Antarctic Heritage Trust.
Furthering the connection in the Hunter Hills, Stravon's Headquarters Hut raises a glass to the heroes that conquered Erebus on the Nimrod expedition, at their in-house bar aptly named 'Shackelton's', where you can experience the heritage for yourself.
We'd love to hear about more local connections to Antarctica & Scott Base!
Get in touch with us if you have a story to share.