Range of medical facilities
Timaru District offers a range of both public and private medical facilities. A number of leading medical specialists have chosen to settle here, many emigrating from other countries in search of a better lifestyle.

Primary and community health services in Timaru District are integrated with Te Whatu Ora - South Canterbury. There are approximately 30 general practitioner/doctors throughout South Canterbury and many pharmacies and chemists.

Timaru District is well served with social agencies that cater to the specific needs of disadvantaged sectors of the community and those with special needs.

Elderly people are well catered for in the district, with a range of aged care facilities ranging from self-contained cottages and apartments within retirement villages, to full hospital care and dementia units.
Te Whatu Ora - South Canterbury
The Te Whatu Ora - South Canterbury employs more than 950 people and provides hospital and health services to more than 55,000 people in the region. Timaru Hospital is a 131-bed facility, with a range of inpatient, outpatient and community secondary services. The hospital provides 24 hour, seven day acute medical, surgical and maternity services, assessment, treatment and rehabilitation (AT&R) services for older persons and a number of tertiary services through visiting clinicians.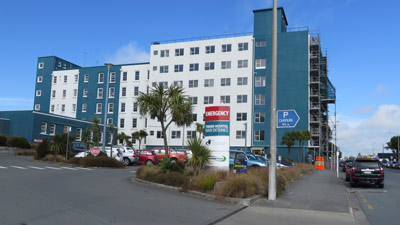 Timaru Hospital
Medical services offered at Timaru Hospital are mainly general medicine with resident sub-speciality interests in gastroenterology, rheumatology and endocrinology. Visiting specialist clinics are also provided in neurology, cardiology, renal medicine and dermatology. A district nursing service is also available. Surgical services include both elective services and a 24-hour district trauma service supported by 24-hour specialist cover in general surgery, orthopaedics and gynaecology. Ophthalmology, ORL/ENT, oral and dental surgery also is provided, as are visiting oncology services.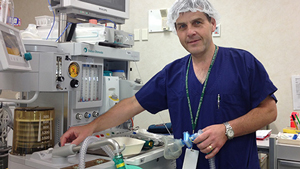 Assessment, diagnosis, treatment and care is provided for people who are suffering from a short-term mental illness (or acute exacerbation of a long-term illness) or substance abuse.
Bidwill Trust Hospital
Bidwill Trust Hospital is a private surgical hospital with facilities comparable to the best in New Zealand. The hospital has 14 inpatient rooms, three operating theatres and a day surgery unit. Bidwill offers an extensive range of services including orthopaedics, ophthalmology, ENT, gynaecology and general surgery. The hospital is a charitable trust and surplus funds are invested back into the hospital to ensure that the facilities and equipment are first-class.
The new Pacific Radiology Centre has opened in 2023 alongside Bidwill Trust Hospital. This state of the art clinic offers x-ray (including a walk-in service), computerised tomography (CT), MRI, mammography and all forms of ultrasound.