Buying local is SO important
It's because of this, that Venture Timaru has launched this district wide campaign to encourage our local communities supporting local businesses.
When you invest money in your local economy, you're not just helping local business owners – you're also helping yourself. You're making your town a better place to live in, with a rich character, thriving economy, and tightly knit community.
South Canterbury online business directory
The South Canterbury-wide business directory allows you to list your business for free or search for local suppliers of goods or services. Check out the directory Buylocalsc.nz
SOS Business vouchers
This fantastic website allows you to purchase vouchers for your favourite eatery to use once you can visit them again. It's a great way to let your favourite café know you're thinking of them during lockdown …even if you can't go in the door.
SOS Business also allows you to make a donation instead of redeeming a voucher, just to show your support. Check out the listings for South Canterbury eateries.
Easy ways to support our local community and save jobs and businesses
What can I do?
With all your purchases ask yourself am I supporting local?
Have a look at what goods and services you spend money on and see if there is a local supplier
Learn about local businesses, seek them out, discover what they have to offer
BUY LOCAL
What can our business do?
Review where and how you spend money on goods and services related to your business
Get on the web to see if there is a local supplier of these goods and services
In all business related purchases ask yourself am I supporting local? And if not why not?
BUY LOCAL
What are the benefits?
Get to know the people behind the goods and services
Better and more personalised customer service
Keep your community unique and actively help improve the local economy
Be part of a closer and better connected, supportive community
Get the branding here
To be part of the Buy Local campaign, we encourage you to use the logos on your emails, websites, social media - anywhere! You can download the various versions of the logos below.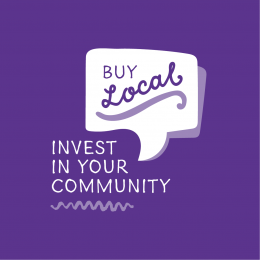 Jpegs:
Hi res png: Email signature
100% Behind Buy Local Sticker - pdf
PDFs:
Useful links
South Canterbury Business Supportive - Join this Facebook group for real time updates and deals from local businesses.