Options for higher learning
The Timaru District is very fortunate to have quality higher education providers as detailed below. The interaction between these providers, secondary schools, local business and community and social organisations is pro-actively open and transparent. The over-riding approach of all is a collective focus on what's right for the student.
Ara Institute of Canterbury is one of New Zealand's leading tertiary institutes. Government-owned, it has an impressive history of innovation and academic success, and a reputation for high quality qualifications.
Each year over 19,000 students enrol at Ara in order to excel in their chosen field, or to qualify for further study either in New Zealand or in their home country. International students make up 12% of students at Ara and more than 50 different nationalities are represented.
Ara specialises in real-world learning and sustainable career outcomes. It offers programmes from foundation studies through to graduate qualifications in a wide range of subjects from art and architecture to engineering, performing arts, business, health, science and much more.
Ara has five campus locations throughout the Canterbury region and outstanding tutors who are industry professionals, chosen for the exceptional knowledge and experiences that they can share with students.
The institute works closely with industry to ensure students have relevant skills for employment, and have a wide range of work placement opportunities. By the time they graduate, they are work-ready and equipped with the tools and confidence to succeed in their chosen career, anywhere in the world.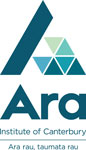 YMCA South and Mid Canterbury offers a range of education programmes, including free Youth Guarantee programmes like Opihi Services Academy and BodyMindSpirit for 16-19 year olds, and also ILN (Intensive Literacy & Numeracy) and Drive2Work for learners ages 16-65 years. We also offer accredited OSCAR Holiday Programmes and Breakaway Youth Holiday Programmes, KiwiSport activities and youth support programmes and services such as our Resiliency Toolkit.

Community College South Canterbury is an outstanding college with a close-knit team. The Community College is committed to fostering mutual respect between its staff, learners and clients, because it believes that this is the foundation of successful learning. The College has a welcoming physical environment; staff work hard to build rapport and trust with the students, and to create a positive learning space.
The College has a high level of collaboration with agencies in our community and open relationships with its funders, health agencies and other education providers in South Canterbury. This ensures that as a community we provide young people with the best available support and services.