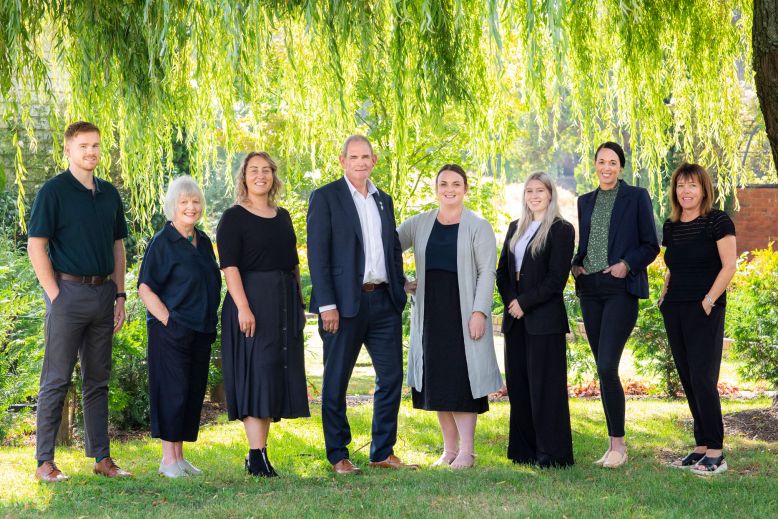 Meet the Team
Nigel Davenport
Chief Executive nigel@venturetimaru.nz
Nigel has over 35 years' experience in the financial services sector and brings a varied set of business skills, knowledge, and networks to the role of Chief Executive of Venture Timaru. Having first-hand experience as a business owner through to various governance roles and involvement with a number of community organisations enables Nigel to fully understand the challenges and opportunities facing new and existing local businesses.
He currently serves as a board member on Sport Canterbury and Economic Development New Zealand. He is a Trustee of the Aoraki MRI Trust and Aoraki Sports Persons Charitable Trust and serves as a Management Committee Member for the Canterbury Tactix.
Nigel is a member of the Canterbury Regional Skills Leadership Group, the Canterbury Mayoral Forums Education and Skills Group, the Ministry of Educations Pathways Advisory Group and was a member of the Unified Funding Group assisting design the new funding model for Vocational Education.
A born and bred parochial South Cantabrian he is passionate about the region and doing what he can to make this an even better place to visit, live and do business.
---
Di Hay
Operations & Destination Manager di@venturetimaru.nz
With a background in communications and marketing, Di has worked in print and radio journalism, public relations, marketing and on-air presenting for commercial radio. She has also been involved in establishing and running two retail businesses, and a wholesale business specialising in importing goods.
Di holds a Graduate Diploma in Business Studies from Massey University and Certificates in Journalism and Adult Teaching.
---
Alice Gray
Finance Manager, BCA, CA alice@venturetimaru.nz
Alice has been an accountant since 1978 and enjoys working with clients to provide timely advice. Previously, Alice tutored Business Studies at the local polytechnic for approximately 20 years, heading the department in latter years. She thoroughly enjoyed passing on her extensive knowledge of Business Studies.
Alice specialises in accounting, tax and small business profitability.
---
Sharnae Naysmith
Marketing & Engagement Manager sharnae@venturetimaru.nz
With experience across multiple industries including agriculture, automotive, media and tourism, Sharnae has nearly 10 years of marketing knowledge.
Sharnae has a deep passion for the tourism industry, moving to Queenstown after secondary school to complete a Diploma in Hospitality and Event Management, where during her studies, she started working for world renowned tourism company, Real Journeys (now RealNZ). Starting in their Queenstown Visitor Centre assisting visitors with their holiday itineraries, she later moved to their sales and marketing team helping to market the business to domestic and international visitors.
Sharnae is a born and bred South Cantabrian and returned to the region in 2016 with her husband and daughter.
---
Renee Sargent
Digital Marketing Coordinator renee@venturetimaru.nz
Renee has a background in design, graduating from ARA institute of Canterbury with a Diploma in Digital Media and Design, giving her a range of skills in design, photography, marketing and more.
This is her first big step in the career direction she wants to head, after previously working in customer service for 7 years.
---
Ally Dawson
Strategic Projects Coordinator ally@venturetimaru.nz
With a varied background across multiple sectors including agriculture, construction and local government, Ally brings to the team a creative perspective to coordinating our strategic projects.
Ally has a deep passion for business and personal development. Originally from South Otago, Ally has fallen in love with the Timaru District and looks forward to contributing to projects that will further the economic growth of the region.
---
Liam Brown
My Next Move Vocational Coordinator liam@venturetimaru.nz
Liam has a background in sports management and sports science, graduating from the University of Otago in 2020. Previously he was working for the Graeme Dingle Foundation as a Kiwi Can programme leader, teaching value-based learning lessons to primary school students.
Liam completed his secondary schooling in the North Canterbury town of Culverden before moving to Dunedin for tertiary study. He now calls Timaru home.
His passion outside of work is football which he both plays and coaches a for West End Football Club.
---
Donna McAuslin
Personal Assistant to Chief Executive / Business Support donna@venturetimaru.nz
With a varied background of office management & administration, lending, and sales across multiple sectors, including the construction industry, health, finance and banking sectors, Donna brings a wealth of experience, expertise, and skills to the team.
Donna lives in Timaru with her husband and enjoys what the region continues to offer her and her now grown-up family, who also live in the region.